Tooth Replacement, Dentures or Bridges using Dental Implant Procedure
What are Dental Implants aka Tooth Implants?
Dental implants are becoming more and more a common procedure in modern dentistry. A dental implant is essentially a titanium screw that is permanently implanted into the jaw.  It then has either an artificial tooth (aka a porcelain crown) attached or is used for attaching bridges, partials or dentures more securely than traditional dentures, etc.
Once the titanium screw is placed, it must be left for several months to heal in the jaw. Once integrated with the jaw bone, Dr. Buntemeyer will use the implant to secure a new crown, dentures or a bridge.
We have used dental implants to help create beautiful and well-fitting artificial teeth, bridges, or dentures for a variety of patients in South Tulsa, Jenks, Bixby, Broken Arrow, and more!  Click Here to see reviews.
Dental Implant Procedure Explained
Tooth Implant Materials and Steps for Procedure
The process for adding or installing an implant into a persons jaw is a relatively straight forward one:
Preparation for Implant (creating the hole for the implant to go in)
Install the implant fixture
Connect the abutment to the implant fixture securely (this will hold the crown, dentures, partial or bridge)
Connect the crown or other dental attachment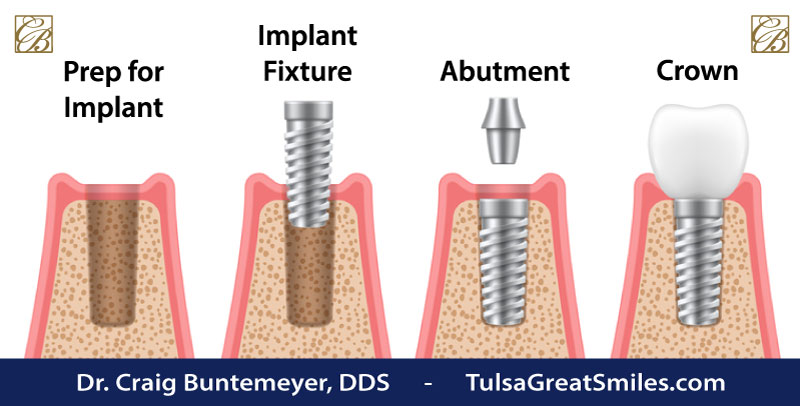 Partnering with the BEST Tulsa Oral Surgeons
Dr. Buntemeyer is teamed up with the three very best oral surgeons in the Tulsa area to complete the surgical part of the implant procedure and then he completes the crown, dentures, bridge, etc. to ensure the very best look, fit and bite alignment.  Because of his long-standing partnership with these surgeons, he can usually coordinate having a patient scheduled with a great surgeon much faster than most general dentists if faster time is essential.