Dr. Craig E. Buntemeyer, DDS
Research has shown that 71% of people believe a person appears more approachable, memorable, and attractive than someone who is afraid to smile showing teeth.  Whether you want a new job, a date, more friends, or to just feel better about yourself, a GREAT SMILE makes ALL THE DIFFERENCE!

When it comes to tooth-whitening, you've got two options: in-office-based teeth bleaching, or at-home care.

FREE Consultations Available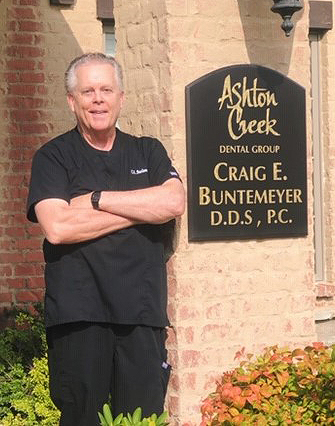 As one of the most experienced cosmetic & general practice dentists in the Tulsa Metro Area, Dr. Buntemeyer specializes in a variety of cosmetic and restorative dentistry procedures to help you realize your healthiest, most natural-looking smile!  
As his patients will confirm, Dr. Buntemeyer provides the very best service and quality for custom dentures, bridges, partials, crowns, implants, and more.  He is fully aware that more extensive dental procedures like these can cause anxiety, fear regarding achieving the very best match and fit, and difficulty sitting through long procedures.  
He and his team do everything possible to ensure you are comfortable, fully informed, and provide dental sedation if needed to help you sit through any advanced procedure. His team can even guide you to excellent third-party financing options if cost is a concern.  
An even better proof of the quality of his practice is that all of his staff have stayed with him for years!  
"The mission of our dental office is to consistently provide the highest quality of dental care to all our patients, and to help them maintain this oral health for a lifetime.  This will be accomplished through education, motivation and technical excellence in an atmosphere of enthusiasm, compassion, respect, and trust."
Dr. Craig E. Buntemeyer, D.D.S., P.C. and Staff
MONDAY:
7:30-4:30
Lunch
12:30-1:00
TUESDAY:
7:30-4:30
Lunch
 12:30-1:00
WEDNESDAY:
7:30-4:30
Lunch
 12:30-1:00
Click on the address, phone number or email address to find or contact our office.
FREE CONSULTATIONS AVAILABLE!