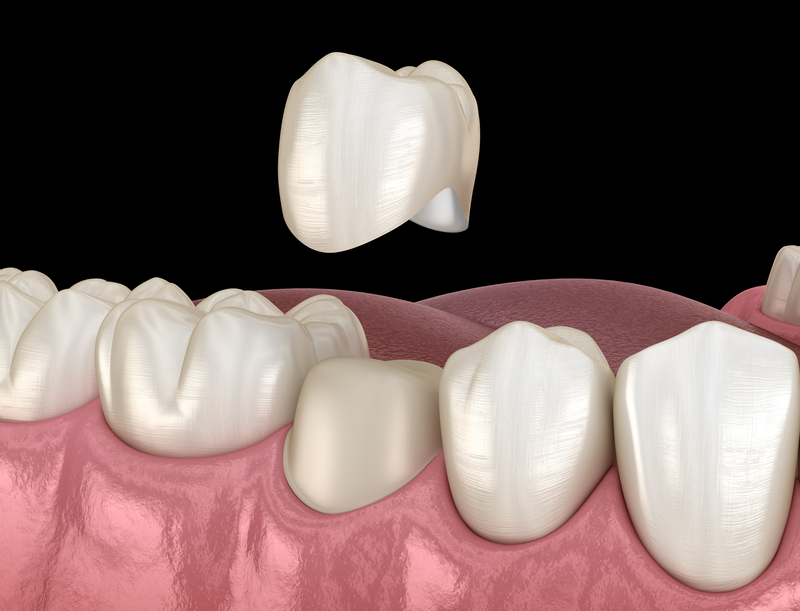 Dental crowns for damaged teeth are often needed either because of a very serious cavity, infected root, broken or cracked tooth, etc.  A crown is a complete cap that replaces the entire outer portion of a tooth above the gum line.  It is made of porcelain and color-matched to the rest of your teeth.  It is also designed for proper fit between neighboring teeth and to align properly to opposite jaw and teeth for the perfect bite. 
South Tulsa Dentist, Dr. Buntemeyer, takes a mold of your teeth and designs the perfect, custom crown for the best fit and perfect smile possible.  Where possible, we always try to keep the original tooth and secure the crown to that tooth.  However, there are times, that it is better from a dental health standpoint to remove or extract the original tooth and install a dental implant that the crown would then be permanently attached to. We have created custom, color-matched crowns for teeth for a variety of patients, in Bixby, South Tulsa, Broken Arrow, Jenks, and more!  Click Here to see reviews. 
Crowns with Dental Implants
When the original tooth is not strong enough to be used to secure a dental crown, the tooth can be pulled or extracted and a dental implant embedded into the jaw to permanently secure the crown in place. 
The process for adding or installing an implant into a person's jaw is a relatively straightforward one:
Preparation for Implant (creating the hole for the implant to go in)
Install the implant fixture
Connect the abutment to the implant fixture securely (this will hold the crown, dentures, partial or bridge)
Connect the crown or other dental attachment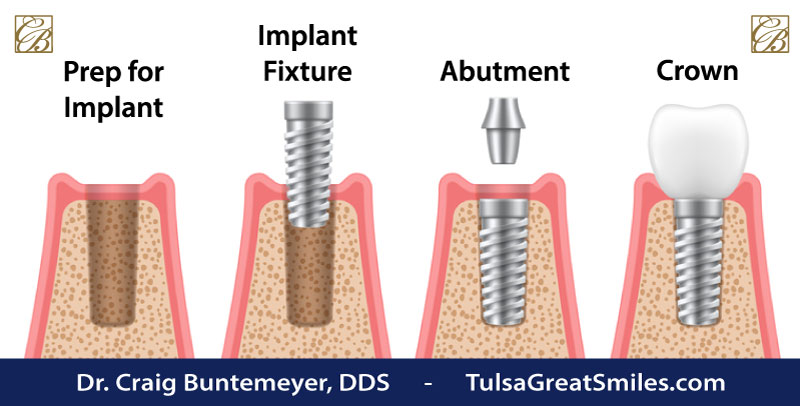 Frequent Questions and Answers on Dental Crowns

Q: How much do dental crowns cost?
A: That depends on the amount of good tooth lost, and the amount of decay in the tooth, and what type of crown the patients wants. Today, we have numerous types of crowns to fit any situation.
Q: When would we recommend a dental crown?
A: A full crown is usually prescribed when a tooth has had a root canal treatment. when substantial amount of tooth structure had been lost, or when a tooth is cracked or broken.
Q: What signs lead to a diagnosis of a crown or cap?
A: The primary goal in dentistry is to restore teeth to their natural form, beauty and proper function. If teeth are disfigured by extensive decay, breakage, wearing, imperfect development or discoloration a crown can solve these problems.